Lemorn Tooling OÜ

,

Estonia

,

Tallinn

,

Lasnamäe linnaosa, Majaka tn 26

,

11412
FRAISA SA
in Bellach (Switzerland) has been the main registered office of the company since it was founded, with the production facilities for all milling, drilling and thread cutting tools. The facility in Bellach houses the departments of Direction, Administration, Marketing, Research & Development, Logistics, and the ToolSchool. Customers in the Swiss market and our international distribution partners are supported by FRAISA SA.
FRAISA, a Swiss company, designs and manufactures high quality cutting tools for all types of mechanical and plastics industries.
Recognized as a leader in its field, FRAISA offers innovative solutions adapted to the continuous improvement of productivity.
With high-performance tools and a comprehensive range of services, FRAISA enables its customers to increase productivity and reduce costs.
In addition, FRAISA offers a comprehensive range of metal cutting tools: milling tools, drills, taps, indexable inserts and many more. Their products are characterised by high performance, precision and quality – at an excellent price/performance ratio.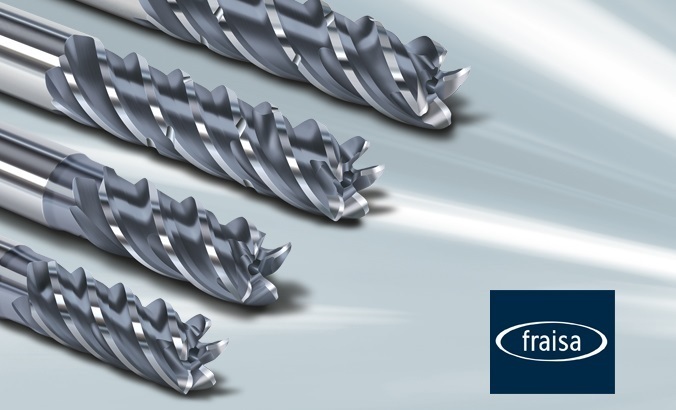 With various performance classes, their product range also covers the individual wishes of the customer: from the inexpensive yet technically perfect product line through to their FRAISA X-Generation for high-performance and precision.
- High-speed machining tools
P15368220 ø4/6x57/8 r 0.5
P15368260 ø5/6x57/10 r 0.5
P15368300 ø6/6x57/12 r 0.5
P15368388 ø8/8x63/19 r 0.5
P15368448 ø10/10x72/23 r 0.5
P15368498 ø12/12x83/27 r 0.5
P15368450 ø10/10x72/23 r 1
P15368501 ø12/12x83/27 r 1
P15368608 ø16/16x92/32 r 1
P15368680 ø20/20x104/39 r 1
P15368393 ø8/8x63/19 r 1.5
P15368453 ø10/10x72/23 r 1.5
P15368503 ø12/12x83/27 r 1.5
P15368610 ø16/16x92/32 r 1.5
P15368505 ø12/12x83/27 r 2
P15368611 ø16/16x92/32 r 2
P15368683 ø20/20x104/39 r 2
P15368457 ø10/10x72/23 r 2.5
P15368506 ø12/12x83/27 r 2.5
P15368612 ø16/16x92/32 r 2.5
P15368684 ø20/20x104/39 r 2.5
P15368508 ø12/12x83/27 r 4
P15368614 ø16/16x92/32 r 4
P15368686 ø20/20x104/39 r 4
P15268220 ø4/6x57/8 r 0.5
P15268260 ø5/6x57/10 r 0.5
P15268300 ø6/6x57/12 r 0.5
P15268388 ø8/8x63/19 r 0.5
P15268448 ø10/10x72/23 r 0.5
P15268498 ø12/12x83/27 r 0.5
P15268450 ø10/10x72/23 r 1
P15268501 ø12/12x83/27 r 1
P15268608 ø16/16x92/32 r 1
P15268680 ø20/20x104/39 r 1
P15268393 ø8/8x63/19 r 1.5
P15268453 ø10/10x72/23 r 1.5
P15268503 ø12/12x83/27 r 1.5
P15268610 ø16/16x92/32 r 1.5
P15268505 ø12/12x83/27 r 2
P15268611 ø16/16x92/32 r 2
P15268683 ø20/20x104/39 r 2
P15268457 ø10/10x72/23 r 2.5
P15268506 ø12/12x83/27 r 2.5
P15268612 ø16/16x92/32 r 2.5
P15268684 ø20/20x104/39 r 2.5
P15268508 ø12/12x83/27 r 4
P15268614 ø16/16x92/32 r 4
P15268686 ø20/20x104/39 r 4
P8820299 ø6/6x57/13 r 0.4
P8820387 ø8/8x63/19 r 0.4
P8820447 ø10/10x72/22 r 0.4
P8820497 ø12/12x83/26 r 0.4
P8820220 ø4/6x57/11 r 0.5
P8820260 ø5/6x57/13 r 0.5
P8820300 ø6/6x57/13 r 0.5
P8820388 ø8/8x63/19 r 0.5
P8820448 ø10/10x72/22 r 0.5
P8820498 ø12/12x83/26 r 0.5
P8820301 ø6/6x57/13 r 0.8
P8820389 ø8/8x63/19 r 0.8
P8820449 ø10/10x72/22 r 0.8
P8820499 ø12/12x83/26 r 0.8
P8820607 ø16/16x92/32 r 0.8
P8820450 ø10/10x72/22 r 1
P8820501 ø12/12x83/26 r 1
P8820608 ø16/16x92/32 r 1
P8820680 ø20/20x104/38 r 1
P8820453 ø10/10x72/22 r 1.5
P8820503 ø12/12x83/26 r 1.5
P8820610 ø16/16x92/32 r 1.5
P8820505 ø12/12x83/26 r 2
P8820611 ø16/16x92/32 r 2
P8820683 ø20/20x104/38 r 2
P8820457 ø10/10x72/22 r 2.5
P8820506 ø12/12x83/26 r 2.5
P8820612 ø16/16x92/32 r 2.5
P8820684 ø20/20x104/38 r 2.5
P8820508 ø12/12x83/26 r 4
P8820614 ø16/16x92/32 r 4
P8820686 ø20/20x104/38 r 4
P8720299 ø6/6x57/13 r 0.4
P8720387 ø8/8x63/19 r 0.4
P8720447 ø10/10x72/22 r 0.4
P8720497 ø12/12x83/26 r 0.4
P8720220 ø4/6x57/11 r 0.5
P8720260 ø5/6x57/13 r 0.5
P8720300 ø6/6x57/13 r 0.5
P8720388 ø8/8x63/19 r 0.5
P8720448 ø10/10x72/22 r 0.5
P8720498 ø12/12x83/26 r 0.5
P8720301 ø6/6x57/13 r 0.8
P8720389 ø8/8x63/19 r 0.8
P8720449 ø10/10x72/22 r 0.8
P8720499 ø12/12x83/26 r 0.8
P8720607 ø16/16x92/32 r 0.8
P8720450 ø10/10x72/22 r 1
P8720501 ø12/12x83/26 r 1
P8720608 ø16/16x92/32 r 1
P8720680 ø20/20x104/38 r 1
P8720453 ø10/10x72/22 r 1.5
P8720503 ø12/12x83/26 r 1.5
P8720610 ø16/16x92/32 r 1.5
P8720505 ø12/12x83/26 r 2
P8720611 ø16/16x92/32 r 2
P8720683 ø20/20x104/38 r 2
P8720457 ø10/10x72/22 r 2.5
P8720506 ø12/12x83/26 r 2.5
P8720612 ø16/16x92/32 r 2.5
P8720684 ø20/20x104/38 r 2.5
P8720508 ø12/12x83/26 r 4
P8720614 ø16/16x92/32 r 4
P8720686 ø20/20x104/38 r 4
P5359218 ø4/6x57/11 r 0.2
P5359258 ø5/6x57/13 r 0.2
P5359297 ø6/6x57/13 r 0.2
P5359388 ø8/8x63/19 r 0.2
P5359445 ø10/10x72/22 r 0.2
P5359496 ø12/12x83/26 r 0.2
P5359605 ø16/16x92/32 r 0.2
P5359220 ø4/6x57/11 r 0.5
P5359260 ø5/6x57/13 r 0.5
P5359300 ø6/6x57/13 r 0.5
P5359391 ø8/8x63/19 r 0.5
P5359450 ø10/10x72/22 r 0.5
P5359501 ø12/12x83/26 r 0.5
P5359610 ø16/16x92/32 r 0.5
P5259218 ø4/6x57/11 r 0.2
P5259258 ø5/6x57/13 r 0.2
P5259297 ø6/6x57/13 r 0.2
P5259388 ø8/8x63/19 r 0.2
P5259445 ø10/10x72/22 r 0.2
P5259496 ø12/12x83/26 r 0.2
P5259605 ø16/16x92/32 r 0.2
P5259220 ø4/6x57/11 r 0.5
P5259260 ø5/6x57/13 r 0.5
P5259300 ø6/6x57/13 r 0.5
P5259391 ø8/8x63/19 r 0.5
P5259450 ø10/10x72/22 r 0.5
P5259501 ø12/12x83/26 r 0.5
P5259610 ø16/16x92/32 r 0.5
D5359218 ø4/6x57/11 r 0.2
D5359258 ø5/6x57/13 r 0.2
D5359297 ø6/6x57/13 r 0.2
D5359388 ø8/8x63/19 r 0.2
D5359445 ø10/10x72/22 r 0.2
D5359496 ø12/12x83/26 r 0.2
D5359605 ø16/16x92/32 r 0.2
D5359220 ø4/6x57/11 r 0.5
D5359260 ø5/6x57/13 r 0.5
D5359300 ø6/6x57/13 r 0.5
D5359391 ø8/8x63/19 r 0.5
D5359450 ø10/10x72/22 r 0.5
D5359501 ø12/12x83/26 r 0.5
D5359610 ø16/16x92/32 r 0.5
D5259218 ø4/6x57/11 r 0.2
D5259258 ø5/6x57/13 r 0.2
D5259297 ø6/6x57/13 r 0.2
D5259388 ø8/8x63/19 r 0.2
D5259445 ø10/10x72/22 r 0.2
D5259496 ø12/12x83/26 r 0.2
D5259605 ø16/16x92/32 r 0.2
D5259220 ø4/6x57/11 r 0.5
D5259260 ø5/6x57/13 r 0.5
D5259300 ø6/6x57/13 r 0.5
D5259391 ø8/8x63/19 r 0.5
D5259450 ø10/10x72/22 r 0.5
D5259501 ø12/12x83/26 r 0.5
D5259610 ø16/16x92/32 r 0.5
P15357450 ø10/10x72/22 r 1
P15357501 ø12/12x83/26 r 1
P15357608 ø16/16x92/32 r 1
P15357680 ø20/20x104/38 r 1
P15357455 ø10/10x72/22 r 2
P15357505 ø12/12x83/26 r 2
P15357611 ø16/16x92/32 r 2
P15357683 ø20/20x104/38 r 2
P15257450 ø10/10x72/22 r 1
P15257501 ø12/12x83/26 r 1
P15257608 ø16/16x92/32 r 1
P15257680 ø20/20x104/38 r 1
P15257455 ø10/10x72/22 r 2
P15257505 ø12/12x83/26 r 2
P15257611 ø16/16x92/32 r 2
P15257683 ø20/20x104/38 r 2
P15312300 ø6/6x57/13 r 0.5
P15312388 ø8/8x63/19 r 0.5
P15312448 ø10/10x72/22 r 0.5
P15312498 ø12/12x83/26 r 0.5
P15312606 ø16/16x92/32 r 0.5
P15312450 ø10/10x72/22 r 1
P15312501 ø12/12x83/26 r 1
P15312608 ø16/16x92/32 r 1
P15312304 ø6/6x57/13 r 1.5
P15312393 ø8/8x63/19 r 1.5
P15312453 ø10/10x72/22 r 1.5
P15312503 ø12/12x83/26 r 1.5
P15312610 ø16/16x92/32 r 1.5
P15212300 ø6/6x57/13 r 0.5
P15212388 ø8/8x63/19 r 0.5
P15212448 ø10/10x72/22 r 0.5
P15212498 ø12/12x83/26 r 0.5
P15212606 ø16/16x92/32 r 0.5
P15212450 ø10/10x72/22 r 1
P15212501 ø12/12x83/26 r 1
P15212608 ø16/16x92/32 r 1
P15212304 ø6/6x57/13 r 1.5
P15212393 ø8/8x63/19 r 1.5
P15212453 ø10/10x72/22 r 1.5
P15212503 ø12/12x83/26 r 1.5
P15212610 ø16/16x92/32 r 1.5
P8207258 ø5/6x57/10 r 0.2
P8207297 ø6/6x57/12 r 0.2
P8207385 ø8/8x63/19 r 0.2
P8207445 ø10/10x72/23 r 0.2
P8207496 ø12/12x83/27 r 0.2
P8207260 ø5/6x57/10 r 0.5
P8207300 ø6/6x57/12 r 0.5
P8207388 ø8/8x63/19 r 0.5
P8207448 ø10/10x72/23 r 0.5
P8207498 ø12/12x83/27 r 0.5
P8207450 ø10/10x72/23 r 1
P8207501 ø12/12x83/27 r 1
P8207608 ø16/16x92/32 r 1
P8207393 ø8/8x63/19 r 1.5
P8207453 ø10/10x72/23 r 1.5
P8207503 ø12/12x83/27 r 1.5
P8207610 ø16/16x92/32 r 1.5
P8207505 ø12/12x83/27 r 2
P8207611 ø16/16x92/32 r 2
P8207506 ø12/12x83/27 r 2.5
P8107258 ø5/6x57/10 r 0.2
P8107297 ø6/6x57/12 r 0.2
P8107385 ø8/8x63/19 r 0.2
P8107445 ø10/10x72/23 r 0.2
P8107496 ø12/12x83/27 r 0.2
P8107260 ø5/6x57/10 r 0.5
P8107300 ø6/6x57/12 r 0.5
P8107388 ø8/8x63/19 r 0.5
P8107448 ø10/10x72/23 r 0.5
P8107498 ø12/12x83/27 r 0.5
P8107450 ø10/10x72/23 r 1
P8107501 ø12/12x83/27 r 1
P8107608 ø16/16x92/32 r 1
P8107393 ø8/8x63/19 r 1.5
P8107453 ø10/10x72/23 r 1.5
P8107503 ø12/12x83/27 r 1.5
P8107610 ø16/16x92/32 r 1.5
P8107505 ø12/12x83/27 r 2
P8107611 ø16/16x92/32 r 2
P8107506 ø12/12x83/27 r 2.5
P15326180 ø3/6x57/8 r 0.5
P15326220 ø4/6x57/11 r 0.5
P15326260 ø5/6x57/13 r 0.5
P15326300 ø6/6x57/13 r 0.5
P15326388 ø8/8x63/19 r 0.5
P15326448 ø10/10x72/22 r 0.5
P15326498 ø12/12x83/26 r 0.5
P15326450 ø10/10x72/22 r 1
P15326501 ø12/12x83/26 r 1
P15326608 ø16/16x92/32 r 1
P15326680 ø20/20x104/38 r 1
P15326453 ø10/10x72/22 r 1.5
P15326503 ø12/12x83/26 r 1.5
P15326610 ø16/16x92/32 r 1.5
P15326505 ø12/12x83/26 r 2
P15326611 ø16/16x92/32 r 2
P15326683 ø20/20x104/38 r 2
P15326457 ø10/10x72/22 r 2.5
P15326506 ø12/12x83/26 r 2.5
P15326612 ø16/16x92/32 r 2.5
P15326684 ø20/20x104/38 r 2.5
P15326508 ø12/12x83/26 r 4
P15326614 ø16/16x92/32 r 4
P15326686 ø20/20x104/38 r 4
P15226180 ø3/6x57/8 r 0.5
P15226220 ø4/6x57/11 r 0.5
P15226260 ø5/6x57/13 r 0.5
P15226300 ø6/6x57/13 r 0.5
P15226388 ø8/8x63/19 r 0.5
P15226448 ø10/10x72/22 r 0.5
P15226498 ø12/12x83/26 r 0.5
P15226450 ø10/10x72/22 r 1
P15226501 ø12/12x83/26 r 1
P15226608 ø16/16x92/32 r 1
P15226680 ø20/20x104/38 r 1
P15226453 ø10/10x72/22 r 1.5
P15226503 ø12/12x83/26 r 1.5
P15226610 ø16/16x92/32 r 1.5
P15226505 ø12/12x83/26 r 2
P15226611 ø16/16x92/32 r 2
P15226683 ø20/20x104/38 r 2
P15226457 ø10/10x72/22 r 2.5
P15226506 ø12/12x83/26 r 2.5
P15226612 ø16/16x92/32 r 2.5
P15226684 ø20/20x104/38 r 2.5
P15226508 ø12/12x83/26 r 4
P15226614 ø16/16x92/32 r 4
P15226686 ø20/20x104/38 r 4
P5334258 ø5/6x57/10 r 0.2
P5334297 ø6/6x57/10 r 0.2
P5334388 ø8/8x63/16 r 0.2
P5334445 ø10/10x72/19 r 0.2
P5334496 ø12/12x83/22 r 0.2
P5334260 ø5/6x57/10 r 0.5
P5334300 ø6/6x57/10 r 0.5
P5334391 ø8/8x63/16 r 0.5
P5334450 ø10/10x72/19 r 0.5
P5334501 ø12/12x83/22 r 0.5
P5234258 ø5/6x57/10 r 0.2
P5234297 ø6/6x57/10 r 0.2
P5234388 ø8/8x63/16 r 0.2
P5234445 ø10/10x72/19 r 0.2
P5234496 ø12/12x83/22 r 0.2
P5234260 ø5/6x57/10 r 0.5
P5234300 ø6/6x57/10 r 0.5
P5234391 ø8/8x63/16 r 0.5
P5234450 ø10/10x72/19 r 0.5
P5234501 ø12/12x83/22 r 0.5
P45319178 ø3/6x57/8 r 0.2
P45319218 ø4/6x57/11 r 0.2
P45319258 ø5/6x57/13 r 0.2
P45319297 ø6/6x57/13 r 0.2
P45319385 ø8/8x63/19 r 0.2
P45319445 ø10/10x72/22 r 0.2
P45319496 ø12/12x83/26 r 0.2
P45319605 ø16/16x92/32 r 0.2
P45319180 ø3/6x57/8 r 0.5
P45319220 ø4/6x57/11 r 0.5
P45319260 ø5/6x57/13 r 0.5
P45319300 ø6/6x57/13 r 0.5
P45319388 ø8/8x63/19 r 0.5
P45319448 ø10/10x72/22 r 0.5
P45319498 ø12/12x83/26 r 0.5
P45319606 ø16/16x92/32 r 0.5
P45319678 ø20/20x104/38 r 0.5
P45319301 ø6/6x57/13 r 0.8
P45319389 ø8/8x63/19 r 0.8
P45319449 ø10/10x72/22 r 0.8
P45319499 ø12/12x83/26 r 0.8
P45319450 ø10/10x72/22 r 1
P45319501 ø12/12x83/26 r 1
P45319608 ø16/16x92/32 r 1
P45319680 ø20/20x104/38 r 1
P45319304 ø6/6x57/13 r 1.5
P45319393 ø8/8x63/19 r 1.5
P45319453 ø10/10x72/22 r 1.5
P45319503 ø12/12x83/26 r 1.5
P45319610 ø16/16x92/32 r 1.5
P45319455 ø10/10x72/22 r 2
P45319505 ø12/12x83/26 r 2
P45319611 ø16/16x92/32 r 2
P45319683 ø20/20x104/38 r 2
P45319457 ø10/10x72/22 r 2.5
P45319506 ø12/12x83/26 r 2.5
P45319612 ø16/16x92/32 r 2.5
P45319684 ø20/20x104/38 r 2.5
P45319508 ø12/12x83/26 r 4
P45319614 ø16/16x92/32 r 4
P45319686 ø20/20x104/38 r 4
P45219178 ø3/6x57/8 r 0.2
P45219218 ø4/6x57/11 r 0.2
P45219258 ø5/6x57/13 r 0.2
P45219297 ø6/6x57/13 r 0.2
P45219385 ø8/8x63/19 r 0.2
P45219445 ø10/10x72/22 r 0.2
P45219496 ø12/12x83/26 r 0.2
P45219605 ø16/16x92/32 r 0.2
P45219180 ø3/6x57/8 r 0.5
P45219220 ø4/6x57/11 r 0.5
P45219260 ø5/6x57/13 r 0.5
P45219300 ø6/6x57/13 r 0.5
P45219388 ø8/8x63/19 r 0.5
P45219448 ø10/10x72/22 r 0.5
P45219498 ø12/12x83/26 r 0.5
P45219606 ø16/16x92/32 r 0.5
P45219678 ø20/20x104/38 r 0.5
P45219301 ø6/6x57/13 r 0.8
P45219389 ø8/8x63/19 r 0.8
P45219449 ø10/10x72/22 r 0.8
P45219499 ø12/12x83/26 r 0.8
P45219450 ø10/10x72/22 r 1
P45219501 ø12/12x83/26 r 1
P45219608 ø16/16x92/32 r 1
P45219680 ø20/20x104/38 r 1
P45219304 ø6/6x57/13 r 1.5
P45219393 ø8/8x63/19 r 1.5
P45219453 ø10/10x72/22 r 1.5
P45219503 ø12/12x83/26 r 1.5
P45219610 ø16/16x92/32 r 1.5
P45219455 ø10/10x72/22 r 2
P45219505 ø12/12x83/26 r 2
P45219611 ø16/16x92/32 r 2
P45219683 ø20/20x104/38 r 2
P45219457 ø10/10x72/22 r 2.5
P45219506 ø12/12x83/26 r 2.5
P45219612 ø16/16x92/32 r 2.5
P45219684 ø20/20x104/38 r 2.5
P45219508 ø12/12x83/26 r 4
P45219614 ø16/16x92/32 r 4
P45219686 ø20/20x104/38 r 4
P5353450 ø10/10x72/11 r 1
P5353501 ø12/12x83/13 r 1
P5353610 ø16/16x92/17 r 1
P5253450 ø10/10x72/11 r 1
P5253501 ø12/12x83/13 r 1
P5253610 ø16/16x92/17 r 1
D5353450 ø10/10x72/11 r 1
D5353501 ø12/12x83/13 r 1
D5353610 ø16/16x92/17 r 1
D5253450 ø10/10x72/11 r 1
D5253501 ø12/12x83/13 r 1
D5253610 ø16/16x92/17 r 1
D5356450 ø10/10x72/11 r 2.5
D5356501 ø12/12x83/13 r 3
D5356605 ø16/16x92/17 r 2.5
D5356610 ø16/16x92/17 r 3.5
D5356615 ø16/16x92/17 r 4
D5256450 ø10/10x72/11 r 2.5
D5256501 ø12/12x83/13 r 3
D5256605 ø16/16x92/17 r 2.5
D5256610 ø16/16x92/17 r 3.5
D5256615 ø16/16x92/17 r 4
P5357450 ø10/10x84/11 r 2.5
P5357501 ø12/12x97/13 r 3
P5357610 ø16/16x115/17 r 3.5
P5257450 ø10/10x84/11 r 2.5
P5257501 ø12/12x97/13 r 3
P5257610 ø16/16x115/17 r 3.5
D5357450 ø10/10x84/11 r 2.5
D5357501 ø12/12x97/13 r 3
D5357610 ø16/16x115/17 r 3.5
D5257450 ø10/10x84/11 r 2.5
D5257501 ø12/12x97/13 r 3
D5257610 ø16/16x115/17 r 3.5
M45709015 ø0.15/3x40/0.225
M45709025 ø0.25/3x40/0.375
8530220 ø4/16x108  r2/750/3  z4  α/2=30°
8530221 ø4/16x108  r2/750/3  z6  α/2=30°
8530300 ø6/16x108  r3/1000/5  z4  α/2=20°
8530301 ø6/16x108  r3/1000/5  z8  α/2=20°
8530388 ø8/16x108  r4/1000/5  z4  α/2=10°
8530389 ø8/16x108  r4/1000/5  z8  α/2=10°
8530391 ø8/16x123  r4/1000/5  z4  α/2=6°
8530393 ø8/16x123  r4/1000/5  z8  α/2=6°
P8530220 ø4/16x108  r2/750/3  z4  α/2=30°
P8530221 ø4/16x108  r2/750/3  z6  α/2=30°
P8530300 ø6/16x108  r3/1000/5  z4  α/2=20°
P8530301 ø6/16x108  r3/1000/5  z8  α/2=20°
P8530388 ø8/16x108  r4/1000/5  z4  α/2=10°
P8530389 ø8/16x108  r4/1000/5  z8  α/2=10°
P8530391 ø8/16x123  r4/1000/5  z4  α/2=6°
P8530393 ø8/16x123  r4/1000/5  z8  α/2=6°
8535100 ø1/6x70  r0.5/350/1  z4  α/2=8°
8535140 ø2/8x80  r1/350/1  z4  α/2=15°
8535145 ø2/8x80  r1/250/1  z4  α/2=30°
8535220 ø4/12x97  r2/350/1  z4  α/2=14°
P8535100 ø1/6x70  r0.5/350/1  z4  α/2=8°
P8535140 ø2/8x80  r1/350/1  z4  α/2=15°
P8535145 ø2/8x80  r1/250/1  z4  α/2=30°
P8535220 ø4/12x97  r2/350/1  z4  α/2=14°
8540220 ø4/10x84  r1.25/30/1  z4  α/2=12.5°
8540221 ø4/10x84  r1.25/30/1  z6  α/2=12.5°
8540300 ø6/12x97  r2/40/2  z4  α/2=15.0°
8540301 ø6/12x97  r2/40/2  z6  α/2=15.0°
8540450 ø10/16x108  r3.5/50/2  z4  α/2=17.5°
8540453 ø10/16x108  r3.5/50/2  z8  α/2=17.5°
P8540220 ø4/10x84  r1.25/30/1  z4  α/2=12.5°
P8540221 ø4/10x84  r1.25/30/1  z6  α/2=12.5°
P8540300 ø6/12x97  r2/40/2  z4  α/2=15.0°
P8540301 ø6/12x97  r2/40/2  z6  α/2=15.0°
P8540450 ø10/16x108  r3.5/50/2  z4  α/2=17.5°
P8540453 ø10/16x108  r3.5/50/2  z8  α/2=17.5°
8545180 ø3/8x80  r0.8/200/1  z4  α/2=14.0°
8545300 ø6/12x110  r1/350/2  z4  α/2=14.0°
P8545180 ø3/8x80  r0.8/200/1  z4  α/2=14.0°
P8545300 ø6/12x110  r1/350/2  z4  α/2=14.0°
8550140 ø2/10x84  r1/250/1.75  z4  α/2=65°
8550300 ø6/20x104  r1/250/1  z8  α/2=70°
P8550140 ø2/10x84  r1/250/1.75  z4  α/2=65°
P8550300 ø6/20x104  r1/250/1  z8  α/2=70°
X7100445 ø10/10x72/11 r 0.2
X7100496 ø12/12x83/13 r 0.2
X7100448 ø10/10x72/11 r 0.5
X7100498 ø12/12x83/13 r 0.5
X7100450 ø10/10x72/11 r 1
X7100501 ø12/12x83/13 r 1
X7100455 ø10/10x72/11 r 2
X7100505 ø12/12x83/13 r 2
X7200440 ø10/10x72/11 r 0.5
X7200450 ø10/10x72/11 r 0.5
X7200491 ø12/12x83/13 r 0.5
X7200501 ø12/12x83/13 r 0.5
X7200606 ø16/16x92/17 r 0.5
X7200435 ø10/10x72/11 r 1
X7200445 ø10/10x72/11 r 1
X7200486 ø12/12x83/13 r 1
X7200496 ø12/12x83/13 r 1
X7200608 ø16/16x92/17 r 1
X7104445 ø10/10x105/11 r 0.2
X7104496 ø12/12x120/13 r 0.2
X7104448 ø10/10x105/11 r 0.5
X7104498 ø12/12x120/13 r 0.5
X7104450 ø10/10x105/11 r 1
X7104501 ø12/12x120/13 r 1
X7104455 ø10/10x105/11 r 2
X7104505 ø12/12x120/13 r 2
X7204440 ø10/10x105/11 r 0.5
X7204450 ø10/10x105/11 r 0.5
X7204491 ø12/12x120/13 r 0.5
X7204501 ø12/12x120/13 r 0.5
X7204606 ø16/16x135/17 r 0.5
X7204435 ø10/10x105/11 r 1
X7204445 ø10/10x105/11 r 1
X7204486 ø12/12x120/13 r 1
X7204496 ø12/12x120/13 r 1
X7204608 ø16/16x135/17 r 1
P5250445 ø10/10x72/11 r 0.5
P5250496 ø12/12x83/13 r 0.5
P5250450 ø10/10x72/11 r 1
P5250501 ø12/12x83/13 r 1.5
P5250610 ø16/16x92/17 r 1.5
P7340445 ø10/10x72/11 r 0.2
P7340496 ø12/12x83/13 r 0.2
P7340448 ø10/10x72/11 r 0.5
P7340498 ø12/12x83/13 r 0.5
P7340450 ø10/10x72/11 r 1
P7340501 ø12/12x83/13 r 1
P7340453 ø10/10x72/11 r 1.5
P7340503 ø12/12x83/13 r 1.5
P7340611 ø16/16x92/17 r 2
P5252450 ø10/10x84/11 r 1
P5252501 ø12/12x97/13 r 1.5
P5252610 ø16/16x115/17 r 1.5
P7344445 ø10/10x105/11 r 0.2
P7344496 ø12/12x120/13 r 0.2
P7344448 ø10/10x105/11 r 0.5
P7344498 ø12/12x120/13 r 0.5
P7344450 ø10/10x105/11 r 1
P7344501 ø12/12x120/13 r 1
X7620457 ø10/10x72/5 r 2.5
X7620501 ø12/12x83/6 r 2.5
X7624450 ø10/10x105/5 r 2
X7624501 ø12/12x120/6 r 2.5
X7624610 ø16/16x135/8 r 3